We tend to separate our Halloween and Samhain celebrations for a couple of reasons. First, I have always been a supporter of celebrating occult holidays closer to the astrological date, rather than the date according to the fixed calendar. This gives us an opportunity to celebrate the secular Halloween complete with horror movies, blood and candy, as well as our religious Samhain, with ancestor reverence and a dumb supper. We get two holidays for the price of one!

Last night was pretty fun…went to DNA lounge with Chas for their Halloween party and met up with Daniel, Ryan and then later Thom. (I was constantly on the lookout for Thorn Coyle, as she had mentioned that she was going to attend, but I never saw her. We'll have to hang out sometime when you're not so busy being famous, Thorn!) J
The music at DNA was pretty good, although they kept playing chunks of one artist all in a row… a few songs from the Cure, then a few from Siouxie, etc. Would have been better with more variety, but still pretty fun just to groove out and watch the cool people in their costumes dancing and otherwise socializing. (I loved a particular Charlie Chaplin who really knew how to work it, and there was a sexy devil chick that, had I been straight, I would have been all over.) Then the band started playing, and while I enjoyed the beginning of their set (complete with Halloween gross-out songs) I appear to have been alone in that, as most of the group decided to take off early to walk around the City. Actually it was a good move… DNA was getting rather hot and stuffy and it was a perfect night to walk around and get some air. We then decided to make the trip back to our place in Antioch so that we could eat snacks and mainly veg-out together. Again, another good move. I really love hanging out with Daniel and Ryan. They're both so cool. We even got some pics of our Halloween costumes! Danial and Ryan went together as Calvin & Hobbes (note the Hobbes costume that Chas sewed together for him, adorned with duct-tape stripes done by Daniel! And doesn't Daniel just look adorable as Calvin? Yummy!) Chas was a jester (adorned with a hat, a mask, and a puppet, all of his own making) while I was your average Horny Gay Devil. (I know... not much of a stretch for me...)

Click images for larger views.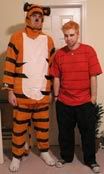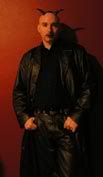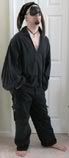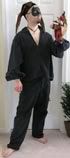 Daniel ended up going home to sleep in his own bed. We crashed pratically the second him and Ryan left, and I slept like a rock… until this morning when I awoke and was reminded that one of my men was missing from my bed. L Oh well… absence makes the heart grow fonder, eh?
Today I am just catching up on housework, so… laundry, bathrooms, vacuuming, grocery shopping. Then maybe some business and art. Oh, and hopefully some good sex thrown in for good measure.