This is kind of long, so I put it behind a cut...

"The Best/Worst Thanksgiving ever"...

The stress started a little over a month ago when Patt (Chas' mother) told me that she wouldn't be joining us for Thanksgiving at my mother's house this year. Under normal circumstances this would be fine, but our circumstances are far from normal: Patt is in constant need of care and supervision having been mentally and physically disabled almost four years ago by both a series of brain surgeries that sought to treat a previously undetected birth defect, along with Parkinson's disease, and a degenerative spine condition. She is often confused, cannot walk on her own, and requires assistance for almost every act of living, save perhaps eating. When I explained to her that not only would it be a fun time, and that since Chas and I both really wanted to go she would need to go with us, she simply refused saying that she would be fine on her own. Of course, that's her dementia talking... she needs someone to walk with her, to bathe her, and to change her diapers, so it's safe to say that she would not be fine on her own. But she just doesns't understand that. It's really only been this year that she stopped asking when she was going home. ("You are home... you live here now. See? All of your things are here.") ("But I don't stay here. When do we leave?")

A lesson that I learned in all of this was that you cannot reason with someone who has dementia. Actually I thought I had learned this a long time ago; I've been caring for her consistently for almost 4 years now, but this time it just sort of crept up on me and caught me off guard. My default stance with people is to communicate and reason, and so it is very difficult to be in a situation in which that modality is not effective; it seems to go against everything in my nature. Like switching seats on the Titanic, it's really just futile.

So we decided to simply change the subject and avoid taking it up again. The bottom line is that we all needed to go... I wasn't fond of the idea of leaving Chas behind on Thanksgiving to care for her while I went to see my family an hour away... especially since Chas really wanted to go, too... but there is no one else to care for Patt, and we have no money to hire someone to come and sit with her. So Thanksgiving morning came and Chas got her showered and dressed and she began telling us how she was not going with us and Chas protested a little but then decided to not fight with her. We just got our stuff together, loaded up the car, and then put her into the car, ignoring her protests.

See, here's the thing: she will often protest leaving the house no matter what we are doing... taking her to lunch... to a doctor's appointment... to see her family... even if she has previously asked to go, when the time comes she protests and gets nasty. It's just what she does, so I'm used to (politely) ignoring that part of her behavior. After all, it's not her fault... her brain is broken.

After an hour and a half, we get to my mom's house and suddenly Patt is so very happy to be there. "How lovely everything looks!", she says. "We're going to have a wonderful time!"

My mom's house was beautiful, all decked out in holiday swag. The table is set with her finest china, and the scent of roasting turkey is in the air. My mom herself wasn't there, having gone out to pick up my sister at the airport, so we waited and had snacks while we watched TV.

My friend David arrived, and then soon my mother and sister did too and we began the first of several courses, each paired with a particular wine that my mother had found during one of her winery trips. Patt refused to eat, however, and I wondered if her change of heart had been short lived. Soon we realized, however, that her stomach had begun bothering her, and when we sat down to eat the main course, he asked to lie down. We made her a bed on my mother's couch, and were already feeling bad about the situation, but as soon as we sat back down to eat, she began to get sick. I felt bad for her... and for Chas who insisted on single-handedly cleaning her up and caring for her while the rest of us finished our meals. At one point Patt berated Chas saying "I told you I didn't want to come!" and of course this was within earshot of my mother.

Now, had she expressed a stomach ailment (or any other ailment for that matter) before we came then of course we would not had brought her. But her protests had come a month earlier and had more to do with her trying to express the very last power that she has in life: to be contrary. Eventually Chas got her all cleaned up, and we reheated his meal so that he could enjoy it as best he could and after pie we said our goodbyes and left, exhausted. We got home, Chas put her to bed, and then we talked about what happened as Chas tried to decompress. We came to the conclusion that we simply cannot take her out with us, unless it's to a nearby public place (such as a restaurant, or movie theater) as at least they will have handicap accessible restrooms, and we can get home quickly, if need be. My mother was not too happy when I later told her that we wouldn't be able to bring her over to her house anymore when she realized that it also meant that WE wouldn't be coming for holidays. My mom really likes to entertain in her house, which is understandable, but she really fought with me and insisted that next time we hire someone to watch Patt so that Chas and I could come and spend the holiday at her place. I'm assuming that she was just being emotional and that she really wouldn't expect us to abandon the woman on a major holiday... I sort of think there's a special place in Hell for people who would do such a thing, but I guess I'll find out for sure next year. There's absolutely no way that I would even consider doing that. I can't think of many more depressing things than leaving a helpless old woman alone with a stranger on a holiday, especially when it's perfectly easy to have the holidays at my place. Our house is huge, and my mom's is quite small. We have handrails on Patt's bathroom, and all her stuff is here if she has trouble. It just makes sense to have it here... especially since my mom has already told me that all Christmases from now on will be at my brother's house in Nevada (since he had kids) and that means I no longer get Christmas with my family, both since I can't afford to leave here, and because my brother has some unexplained issues with me that I can only assume are related to me being gay. So I should get one of the holidays, right? Again, I guess we'll find out next year if she'll understand, but either way we will have a big holiday party. Maybe more than one. So, there.

But, as always, there is a silver lining to this otherwise depressing cloud. Chas and I have recommitted to going out at night after his mom has gone to bed, which means that we will once again be making it out to a club every now and again. We did that for awhile, but stopped, because Chas was uncomfortable leaving the house with no one here with his sleeping mother, but now since we realize we can't even go out with her, we need to do this or else we will spend the rest of her life trapped in this house. So I am looking forward to this being a good step for our marriage. We need a break.... if only for a few hours.

Afterward...

In other news, some friends and I went to see Kathy Griffin live at the Warfield on the 24th. I laughed my ass off. Well, OK... actually I still am in full possession of my ass (one of my better qualities, I am told) but did suffer from acute cheek-ache the next day from the ordeal. She is so causticly hilarious. Highlights included comment on the Foley scandal ("Delicious", she said) and clearing up the confusion as to whether or not Paris Hilton is actually as dumb as she appears ("She's Corky from "Life Goes on", retarded!") plus lots of descriptions of her encounters with various celebs, including a meeting with former President Bill Clinton at an event for California governor hopeful Phil Angelides while she was wearing a "silver whore dress". She says she probably scared the shit out of him with her crazy awe-struck babbling as a result of having just bombed while telling jokes based on some remarks that Ann Coulter made about Clinton being gay. Too marvelous.

And then later...

On Saturday, my mother and sister came over and we went out to lunch. My mom was depressed at just having been told about our inability to spend holidays at her place in the future and so we needed some time to go out and have fun. By the end of the lunch all were in high spirits (not the least of which was due to some Towering Iced Teas and Pomegranate Margaritas) and when we returned to my place we got to work scanning a children's book that my sister made for our niece, Leah, in which she took old snapshots and pieced them together in a story about Leah finding the perfect place to plant her own tree: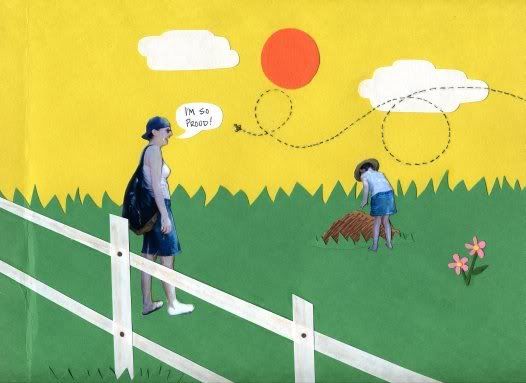 We spend a good amount of time scanning, and then printing a copy for my mom, who also (at the last minute) brought some family photos of her own for me to scan and arrange so that she could have a collage to give for a Christmas present. After all this we spent some time burning CD's, enjoying some gingerbread cake and some really good port. Mmmm... port. It was a nice time, and they didn't leave until 1am! But that's my family for ya... we like to party until we can't stay awake anymore.

Epilogue...

During all of this the business has been slowly growing... I'm still working on my next wave of meditation CDs, as well as some writing projects. Things have been more creative in this house since our house guest left early this month... I guess we just have more emotional space in which to work. My spiritual practice has been improved since then, as well. These things tell me that we are now on the right path for our lives... but still, at times, the house seems empty with just us. After Patt goes to bed Chas and I usually retreat into our creative spheres and the house is filled with silence. But this will also change... I'm looking forward to going out more and playing.